Hey guys, sorry for the delay! Here is the scar tutorial I promised a few months ago. BTW, take from this what you want. Play with the techniques, add your own flair. I just put this together because once in awhile I get a message asking how I made my scar, and it's a lot easier to explain with pictures. But there's lots of ways to go about it, so experiment and do your thing!

Disclaimer: I am not responsible for any injuries that may occur when you make your scar. These are the steps I do on myself, but if you have sensitive eyes, you need to take that into account. If you are a minor, please check with your parents before taking painkillers, putting on greasy makeup or chemicals near your eyes. Got that? Cool.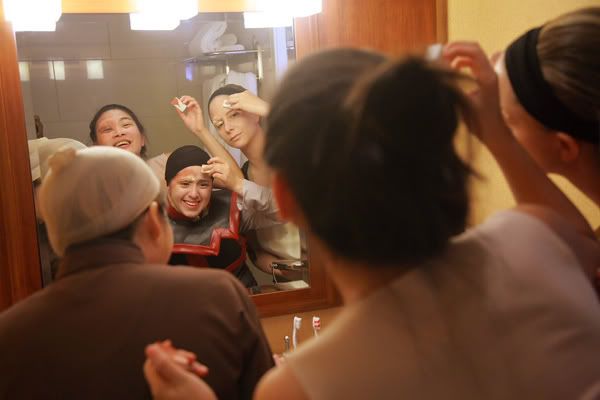 Materials:

-scar wax
-spirit gum
-facial tissue or toilet paper
-liquid latex
-Ben Nye cream foundation in a color to match your skin, and a reddish color
-makeup sponges
-dark brown eyeshadow
-eye brush
-translucent powder
-powder brush

Start with a clean, moisturized face. Put on your wigcap or something else to keep your hair away from your face. I recommend putting on some foundation primer, because my skin hates heavy theatrical makeup, and it seems to help having a layer in between. If you don't have any primer, it's not a problem.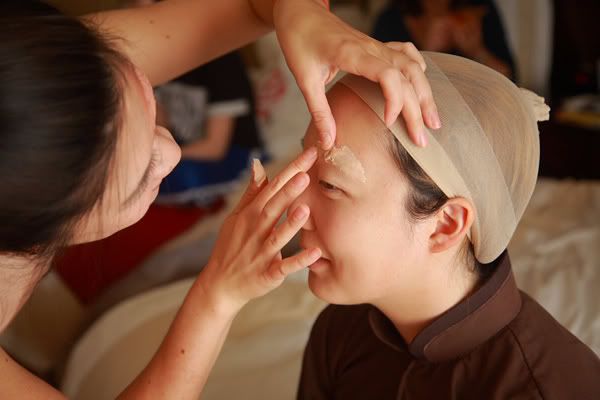 Cover your left eyebrow with some scar wax (I'm using BenNye Nose and Scar Wax)... unless you're doing Ember Island Zuko, in which case you will want to put it over the right eyebrow, and BTW, YOUR SCAR IS ON THE WRONG SIDE.

Using a makeup sponge, apply the cream foundation that matches your skin tone.

If you're going to wear contacts, put them in now. I love my gold ones, but they irritate my eyes after awhile, so I don't wear them if I know I'm going to be in costume for more than half a day.





Now, thanks to Daddy Ozai's gift that keeps on giving, Zuko's left eye is smaller than the right. I create this effect by holding down the eyelid with a bit of kleenex and spirit gum. You may not want to do this. For one, it doesn't work on all eye shapes, and according to my TakaraZUKO guinea pigs, the spirit gum really stings. I'm just used to that part, but the other issue is that having your eyelid held down for that long will give you a honking headache in a few hours. If you're going to do this step, take some Tylenol or Motrin or Aleve. No, really, I'm not joking. (and if you're a minor, you will ask your parent or guardian before taking any medicine. Go now.)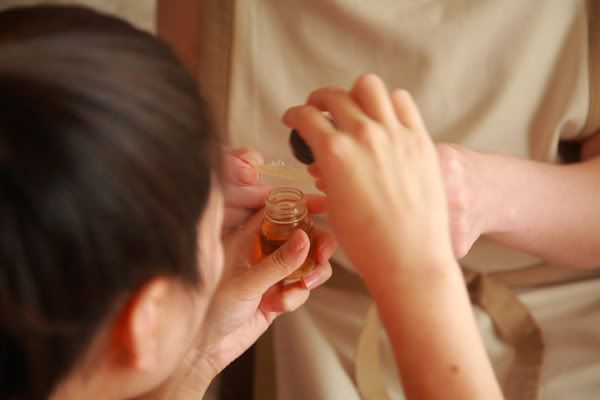 Rip off a small piece of tissue, longer than the width of your eye, and about half an inch tall. Cover this with spirit gum.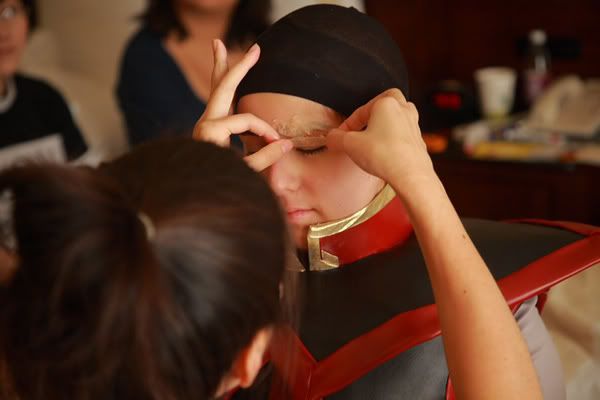 Wait for the spirit gum to get tacky. You can tap on it to speed up the process. Once tacky, pull it down gently over the eyelid, and stick the ends down.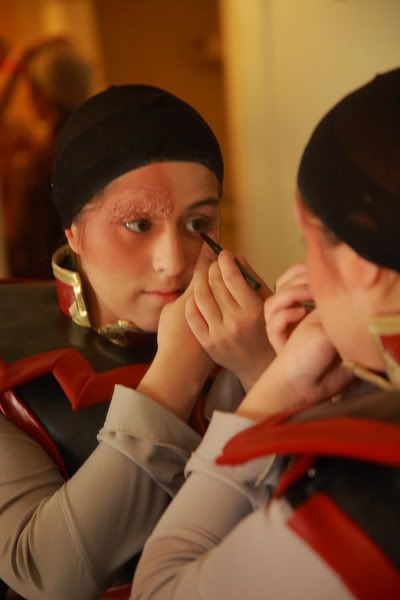 If you want to skip this step, you can do what
moriyama_umi did--we tried the eyelid technique on her which didn't show at all--and make the right eye look bigger rather than shrinking the left. Go liquid eye liner!




While you wait for the spirit gum or eye liner to dry completely, start putting liquid latex over the brow bone (now covered with scar wax). Bring it down to cover the top of the tissue paper, but don't get the latex too close to your eye.




You can speed up the drying process of the liquid latex using a hair dryer set on low--no real burnz, plz.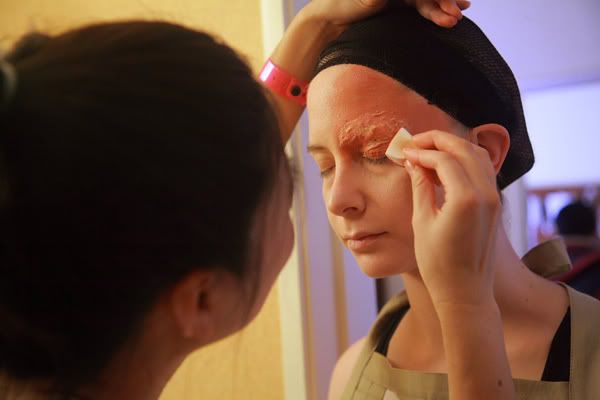 Look at a reference picture of Prince Zuzu (:swoon: LOL), and apply the red creme foundation from the middle of your forehead, down to the bottom of your left ear. Don't forget to cover your ear as well!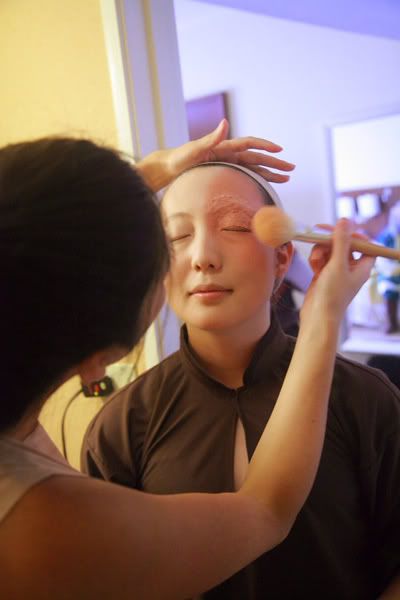 Using a powder brush, pick up some translucent powder, tap off the excess, and set the creme foundation by lightly brushing over both colors of foundation.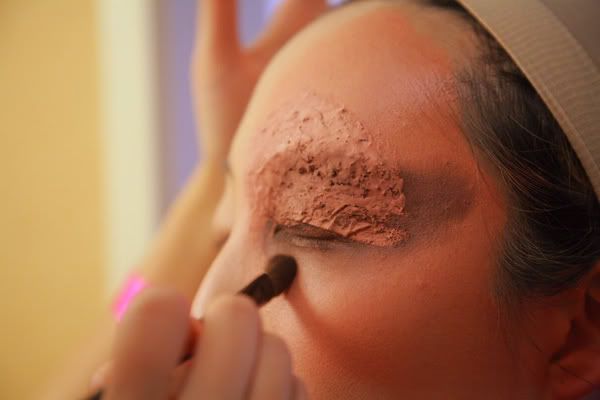 Take your eye brush and pick up some dark brown eyeshadow. Again, following your reference picture, make a burn mark around the eye.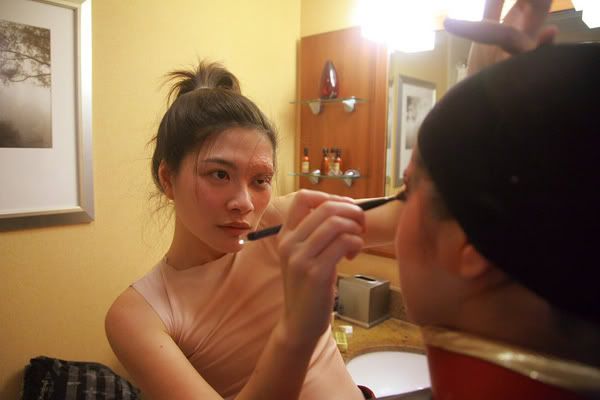 ZUKO SCAR = SERIUS BIZNESS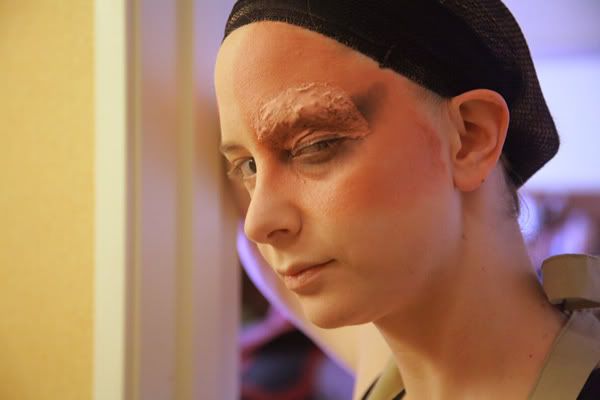 You should look something like this.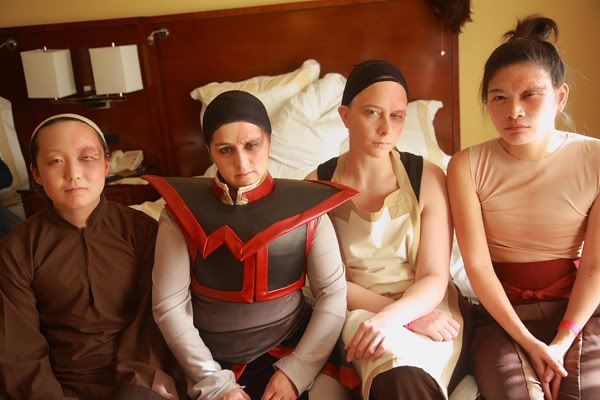 TA-DA!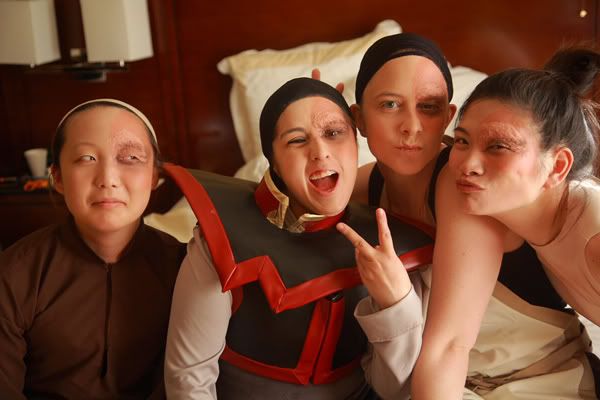 Don't forget to have fun :) Take photos! Post them here! We'd love to see them!

In case you're interested, photos of previous scars are kept in this post.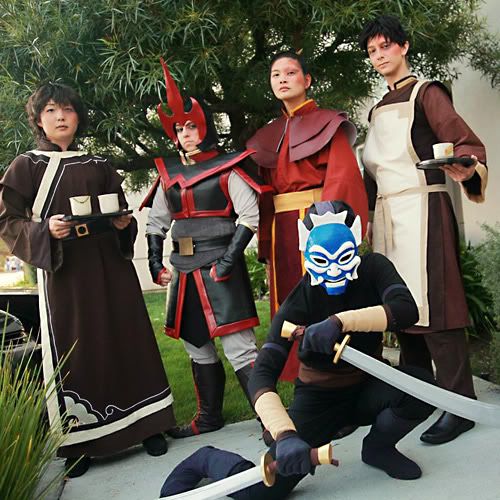 Thanks to my TakaraZUKO ladies for being demonstration models <3 and big, big love to
slave_to_anime who took all these photos for us!

If you want to see the ridiculousness we got into wearing these costumes, it's here in this post.